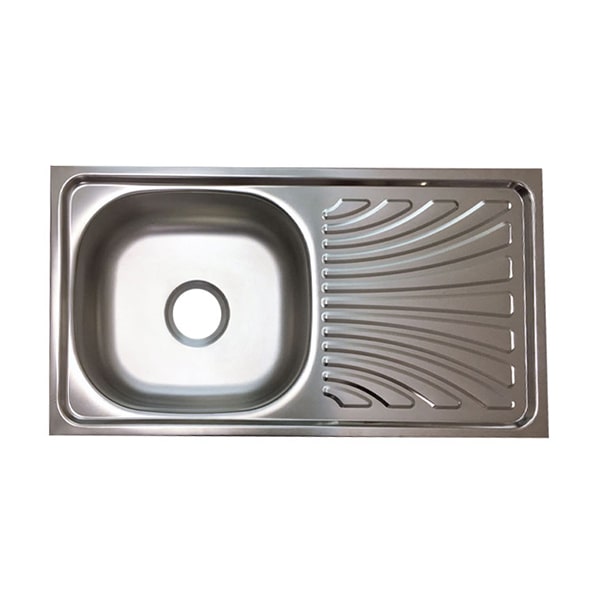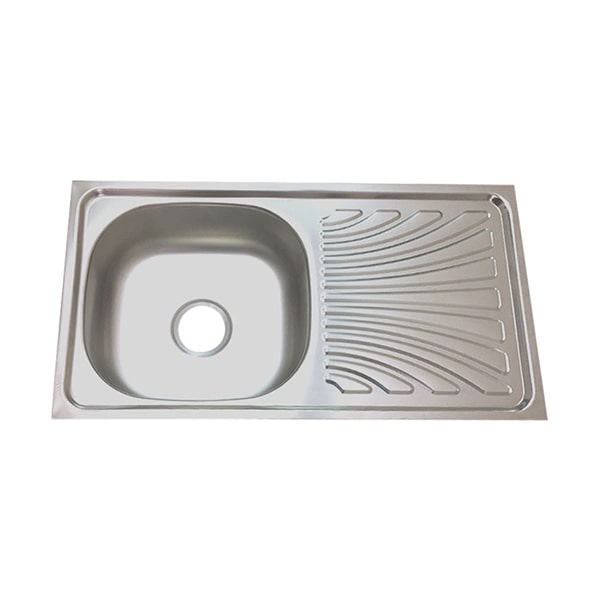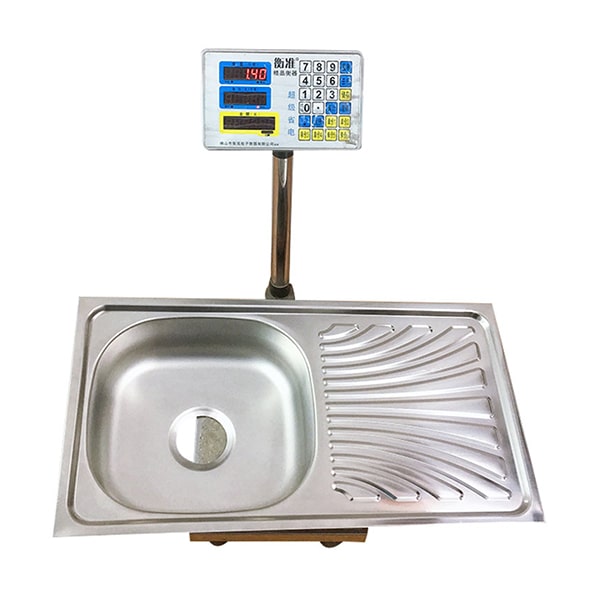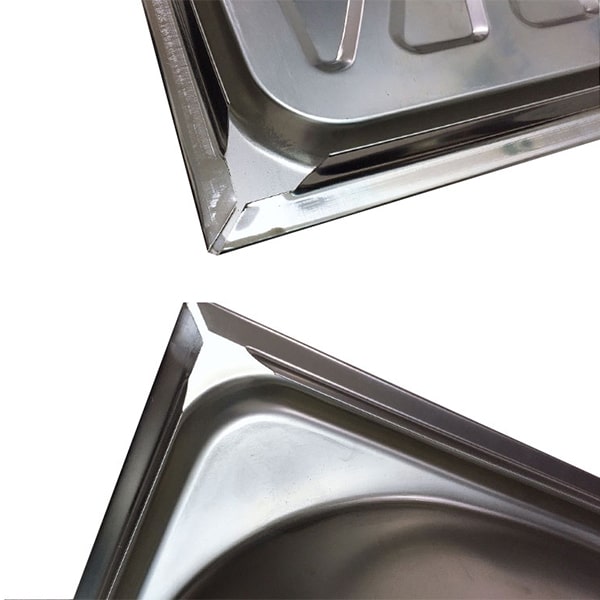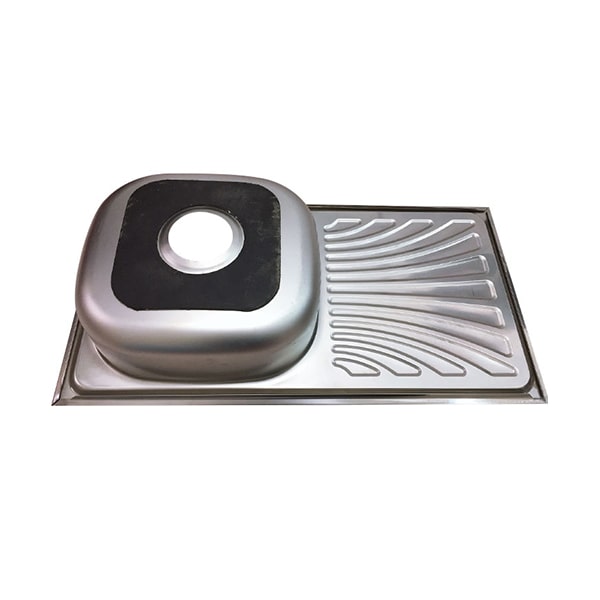 Stainless Steel Sink SC-7540
Brand Name: SC
Model Number: SC-7540
Warranty: None
After-sale Service: None
Project Solution Capability: None
Application: Kitchen
Design Style: Modern
Place of Origin: Guangdong, China
Feature: Without Faucet
Surface Treatment: Nano
Installation Type: Above Counter
Bowl Shape: Rectangular
Number of Holes: Two
Sink Style: Double Bowl
Size: 75*40*22cm
Accessories: With sewer accessories
Type: Welding
Advantage: Zero leakage, convenient and quick "connection"
Commercial third generation welding water nano antibacterial and double stainless steel basin sink for kitchen.
This kind of double basin stainless steel sink is not very popular in China, and it is indeed not suitable for the domestic kitchen environment. It is very popular abroad.
Supply Ability
100000 Piece/Pieces per Month
Packaging & Delivery
Port: Nansha Port
| | | | | | | | |
| --- | --- | --- | --- | --- | --- | --- | --- |
| Size | Minimum Order Quantity | FOB Price (USD) | Number of Pieces | Net Weight | Gross Weight | Outer Box Size | Opening Reference Size |
| 68*38*19cm | 3800 pcs | $ 11.2 | 6 pcs | 3.65 kg | 23.9 kg | 70.5*37*40.5cm | 66*36cm |
| 72*38*21cm | 3200 pcs | $ 11.3 | 6 pcs | 4.4 kg | 28.4 kg | 74.5*42*40.5cm | 70*36cm |
| 75*40*22cm | 3100 pcs | $ 11.8 | 6 pcs | 3.65 kg | 23.9 kg | 77*39.5*42.5cm | 73*38cm |
| 81*43*22cm | 2500 pcs | $ 13.1 | 6 pcs | 5.75 kg | 36.5 kg | 83*41*46cm | 79*41cm |
| | |
| --- | --- |
| Material | 201 Stainless steel |
| Plate Thickness | 1.3 (mm) |
| Solid Thickness | 0.55-0.6 (mm) |
| Molding Process | One body molding |
| Surface Treatment | Nano |
| Bottom Processing | Coating |
| Color | Silver |
| Slot | Dual |
| Number of Pieces | 6 pcs |
Stainless steel kitchen sinks are a favourite for many homeowners. They're smooth and brilliant and seem to be classier than many different options. Stainless kitchen sink is additionally acknowledged for durability. Stainless metal sinks won't chip, crack, or fade.
However, these modern kitchen sinks can be hard to clean, and it can be pretty sizeable when they're dirty. If you've been questioning how to fix your stainless metal sink to its original, brilliant glory, seem to be no further. I've put collectively an easy-to-follow how to easy stainless metal information so you can without problems get your sink searching manufacturer new again.
First, some suggestions on how regularly you need to smooth your stainless steel kitchen sink. With every sink use you need to rinse it with heat water. Rinsing your sink after washing dishes will get rid of meals and dish cleaning soap residue. To surely hold your sink in pinnacle shape, you have to additionally dry it after rinsing with heat water on a day by day basis.
If you've been rinsing your sink after use, you must solely want to deep easy it as soon as each couple of weeks. Don't use this quantity as an stop all command though. If your sink appears dirty, has meals caught on the steel, or is searching dull, that ability it's time for a deep clean. Wondering how precisely to deep clean? Here's a step-by-step guide.
1.Rinse the Sink
You want to begin except chunks, grains, or different bits of food, so rinse your sink well.
Start through rinsing your kitchen basin sink properly in warm water. If you have an in-sink dispenser you can run it a couple instances to make certain it isn't clogged.
The cleansing technique is best if you begin with a relatively easy surface. If there are bits of meals caught on the sink you can let warm water run over them for a few minutes till they loosen and come up on their own.
2.Coat the Sink
Filling a sink with baking soda is one of the magic elements in stainless litchen sink cleaning to gett rid of hair-dye stains, and even unclogging toilets. To easy a stainless steel kitchen sink, you'll begin via coating the sink with a skinny layer of baking soda. Do this on a damp sink, which will assist the baking soda stick. This will enable you to coat the edges of the sink as properly as the bottom.
3.Scrub in the course of the grain
Once you've layered on your baking soda, you can begin scrubbing it into the stainless steel kitchen sink. There are a few essential notes here.
Don't use a surprisingly abrasive scrubber. Steel wool with harm your sink and motive rust. Even the scratchy facet of a ordinary kitchen sponge can be too abrasive. Instead, use the softer aspect of a sponge or washcloth. You can use a toothbrush to easy round the drain and the corners. Remember to wear gloves. The baking soda would make your pores and skin experience dry and uncomfortable. In general, it's usually clever to put on gloves when cleaning.
Scrub in the route of the grain. If your sink is brushed metal (you can see faint strains in the steel), scrub in the path of these lines. This will assist you easy higher and will make your sink remaining longer.
4. Dry
Use a soft, non-shedding towel to dry the sink to keep away from water spots. After you supply your sink a rinse, use a fabric to dry it off. You must usually dry your modern kitchen sink after cleansing to keep away from water-spots.
Sink Basin Kitchen Sinke Is Suitable For Young Couple

Songchang single basin kitchen sink is, essentially, a single sink with no divider within it. This single basin kitchen sink enables you to wash larger dishes without getting hung up on the smaller ones. A single basin kitchen sink has the added advantage of providing more room in the sink. Nowadays, a single basin kitchen sink is that portion of the sink where the bulk of the cooking occurs, usually around the cooking range. This allows the cook to cut meats, saute sauces, and prepare the other food items in this particular area.

In choosing the best single basin kitchen sink for your home, there are several factors that need to be considered. Among these factors are the type of sink that you want, your budget, the overall look of your kitchen, and the proper finish for your sink. Among these factors, the type of sink that you choose is the most important. As mentioned above, the type of sink is the part of your sink where the bulk of your cooking takes place. If you don't have a large amount of dishes, then a small single basin kitchen sink may be the best choice for you. However, if you do have a lot of different types of food, or perhaps a couple of different types of dishes, then you will want to consider a larger double basin sink.

Now, if you are looking for a single basin stainless steel sink in order to replace your single bowl kitchen sink, then it is important to choose one that will fit in your space properly. As mentioned earlier, the single basin sink is not a huge size, but rather, it is a practical size that will fit in your kitchen space. Therefore, you should purchase a double basin sink in order to have plenty of room for your larger dishes. Now, if you are looking for a single bowl kitchen sink but do not want to replace your current sink, then a single bowl kitchen sink may be the perfect option for you.

In fact, the single basin kitchen sink has become increasingly popular with individuals who do not want to deal with any complicated plumbing. As you may know, most sinks are attached to the counter with pipes that snake through the center of your kitchen. The single basin sink allows you to easily remove the excess water from your dishes, so there is no plumbing involved at all! If you are interested in purchasing one of these sinks, then it is important to know that they are available in a variety of different materials, including brass, cast iron, copper, stainless steel, and more.

Now, if you are wondering what the best single basin kitchen sink actually is for your situation, then you should keep an eye out for a single basin kitchen sink called a vessel sink. These sinks are made with the idea in mind of being able to remove the water from dishes without draining them completely. Typically, these sinks will have a few spouts located on either side of the space in order to conveniently dump out all of the excess water. The problem with these sinks is the fact that they typically do not go all the way to the edge of your countertop, which means that you will have to drain your dishes before removing them.

As you can see, there are some great advantages to installing a single basin sink over another type. First off, you will have a single, easy to clean surface area. Secondly, you will have an extra surface area available for you to wash large pots or pans that you might have on your stove top. Last but not least, you will be able to remove excess water from your dishes easily, which will reduce the amount of damage that you experience when you use your kitchen counters. Hopefully by now you will have a better understanding of why single basin sinks are the best sink for your situation!
CONTACT US


Foshan Shunde Songchang Kitchen & Sanitation co., Ltd.
We are always providing our customers with reliable products and considerate services.
If you would like to keep touch with us directly, please go to contact us