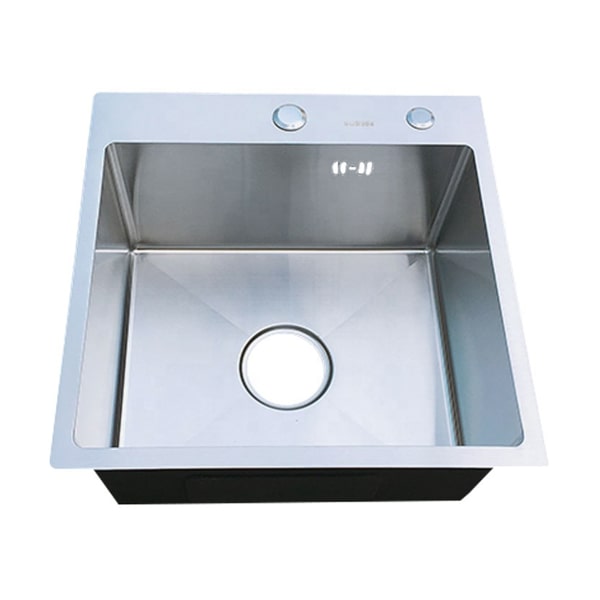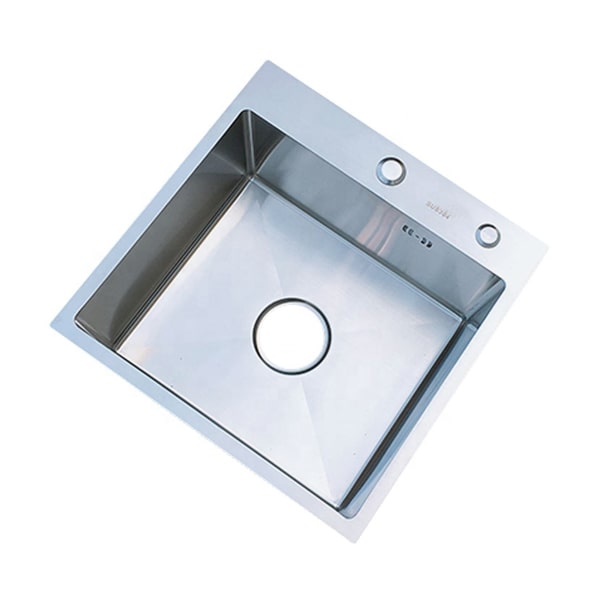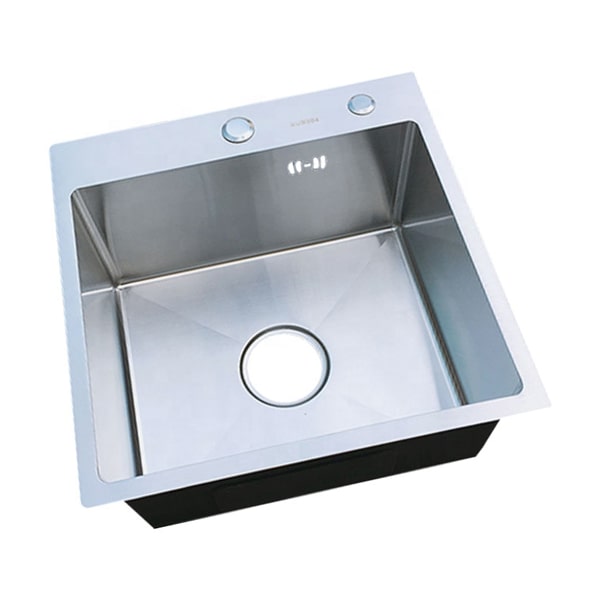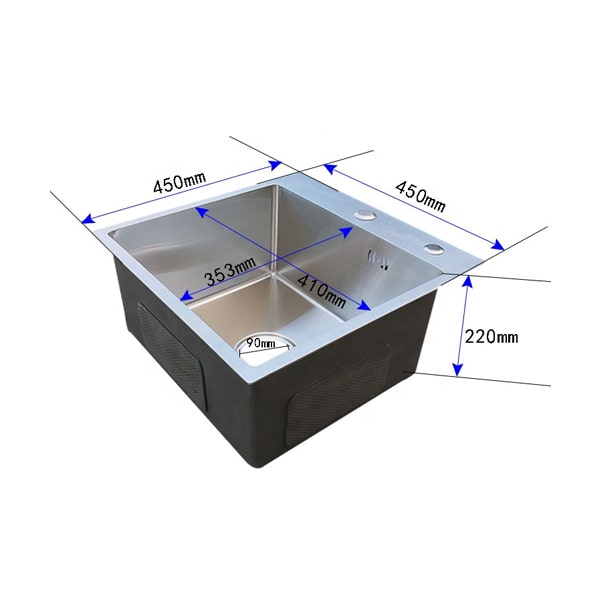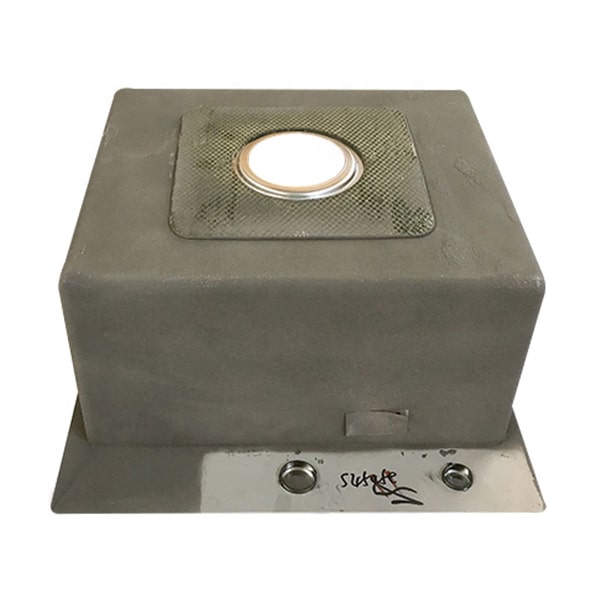 Tensile Sinks SC-4545L
Brand Name: SC
Model Number: SC-4545L
Warranty: None
After-sale Service: None
Project Solution Capability: None
Application: Kitchen
Design Style: Modern
Place of Origin: Guangdong, China
Feature: Without Faucet
Surface Treatment: Brushed
Installation Type: Above Counter
Bowl Shape: Rectangular
Number of Holes: Two
Sink Style: Single Bowl
Size: 45*45*22cm
Accessories: No Accessories
Small manual welding stainless steel single slot 4545L square sink kitchen 304 stainless steel sink.
There are two types of single slot, small single slot and large single slot. The size of the small single slot is generally below 650mm, and the size of the large single slot is generally above 850mm. The common single tanks on the market are generally large single basin stainless steel sink. Such drop-in single kitchen sinks are larger and feel more comfortable when used. Most of these sinks are rectangular and can be used with a drain basket. Large pots and utensils at home can also be easily cleaned.
Single-slot kitchen countertops are suitable for all sizes, especially for homes with a large population. Single-slot kitchens are more practical.
Supply Ability
100000 Piece/Pieces per Month
Packaging & Delivery
Packaging Details: Outer packing size: 48*48*26cm, net weight is 4.2Kg, gross weight is 5.35kg.
Port: Nansha Port
| | |
| --- | --- |
| Material | SUS304 stainless steel |
| Thick panel | 3.0 (mm) |
| Liner thickness | 0.6 (mm) |
| Molding Process | Manual welding |
| Surface Treatment | Wire drawing |
| Bottom processing | Coating |
| Depth | 22 (cm) |
| Color | Silver |
| Slot | Single slot |
| Number of pieces | 1 pcs |
Sinks are labeled first via the way they install, and after that, by way of their quality, design, and style. All stainless steel kitchen sinks suit into three fundamental set up types: top-mount, undermount, and apron-style (also recognized as farmhouse). The kitchen's accessible house and whether or not the sink will be a new deploy or a retrofit are additionally pinnacle set up considerations.
Top-Mount
For decades, the solely kind of sink on the market used to be the top-mount sink, oftentimes regarded as a drop-in sink. A top-mount sink points a rim, or a lip, that rests on the surrounding countertop. For these who have an present top-mount sink, select every other top-mount when changing the sink to get the fantastic results. Handy DIYers with a bit of plumbing ride can regularly change one top-mount sink with any other due to the fact the manner is pretty straightforward.
Undermount
An undermount sink, additionally referred to as a recessed model, is higher acceptable to solid-surface countertops, such as granite, quartz, or stone. This kind of sink is cautiously outfitted to a countertop's underside after a expert fabricator cuts an opening for it. Undermount sinks come in two styles, and putting in both kind is a job for the pros.
Reveal: An undermount sink with a disclose refers to a small strip (a fraction of an inch) of the sink's pinnacle side that is seen alongside the interior of the countertop cutout.
Overhang
No pinnacle strip of sink is seen with an overhang design. Instead, the strong countertop floor is reduce to the precise dimensions as the sink opening or barely smaller, which permits the countertop cloth to prolong over the pinnacle of the sink. While some experience this kind is much less probable to enable water to leak between the sink and the countertop, a professionally mounted undermount sink of both kind have to be sincerely leak-free.
What Is The Best Drop-in Kitchen Sink ?

The best drop-in kitchen sink is the one that has the most options for customization. A customized sink is a sink that was designed to fit under your counter and have drain holes below the countertop. Most of the times these sinks have a cutout or lip at the top of the counter so it can be easily attached to the underside of your counter.

There are many different styles of stainless steel kitchen sinks to choose from and they all come in a wide range of price. The best drop-in kitchen sink is a solid, complete guide that can help you find exactly what you need, whether it be single or double sinks and with the options of undermount or traditional mount. The basic difference is in the depth of the sink itself. Single sinks are generally more shallow than double sinks and traditional mounts are basically a horizontal bar across the top of your countertop.

Before shopping for the best drop-in kitchen sink for your needs you should first determine which material used to make the sink. Materials used include stainless steel, cast iron, copper, brass, bronze, and other materials. It is usually cheaper to buy the material used and then custom design the sink to your specific needs.

Another material used to make drop-in kitchen sinks is called fireclay. This is a recycled mineral clay that is commonly used in home remodeling projects. It is high quality and will stand up to high heat. Unfortunately it is also a bit expensive and you will generally only find it in fireclay tile form. You can often find it in an epoxy form as well and this will be the most appropriate for your project.

The third type of material used for these kitchen sinks is a composite of two different materials. The first is a non-porous copper and the second is a ceramic tile composite. Copper has excellent heat conductivity, but the non-porous composite has excellent anti-corrosion properties. If you are not concerned about price you should opt for the non-porous composite. It is cheaper than the other material and you will usually find it in a variety of colors.

There are other sink materials available. You can get glass sinks that will look great in any color or patterned glass. You can also get the heavy-duty cookware sinks. These sinks come in various sizes and the heavy-duty cookware can be found in solid cast iron or solid granite composite. It is good to get advice from an expert on all of the various options before making your decision.
CONTACT US


Foshan Shunde Songchang Kitchen & Sanitation co., Ltd.
We are always providing our customers with reliable products and considerate services.
If you would like to keep touch with us directly, please go to contact us