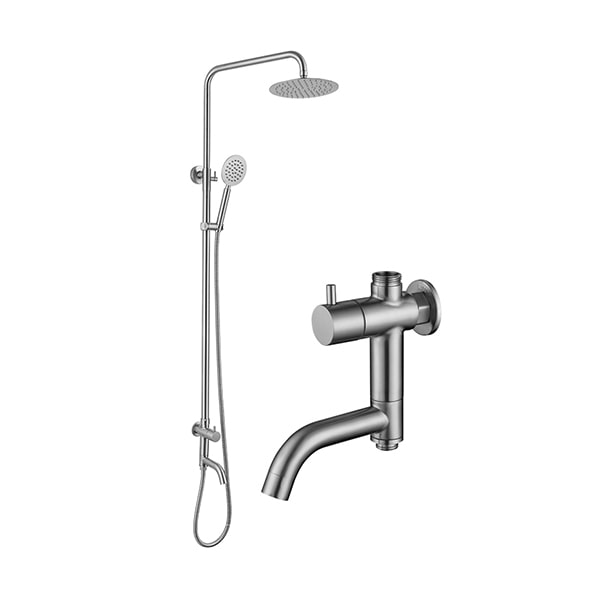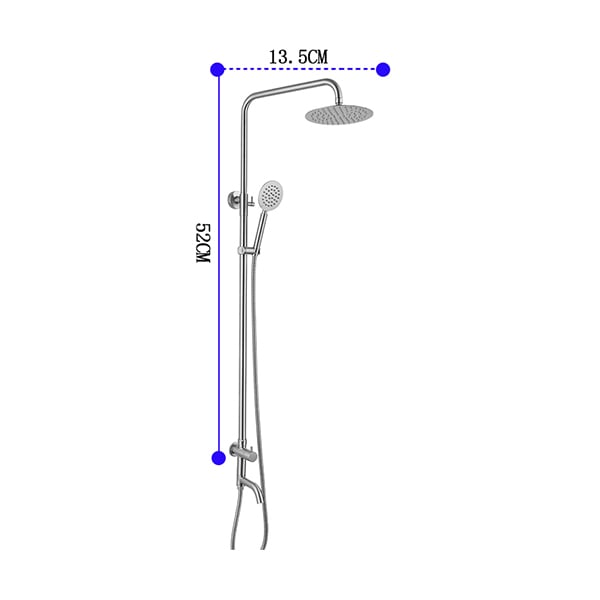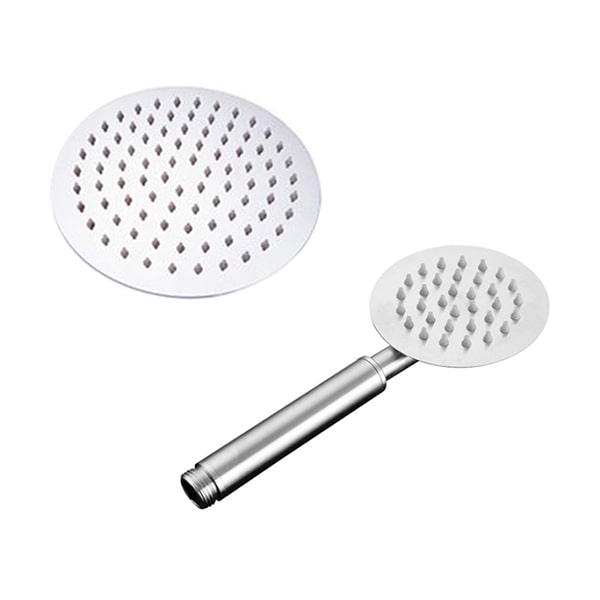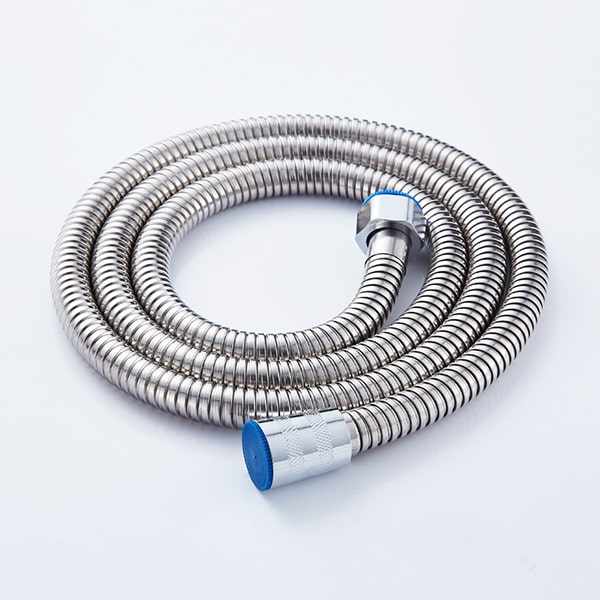 Bathroom Shower Faucet Sets YM-LD02
Brand Name: SC
Model Number: YM-LD02
Warranty: 1 Year
After-sale Service: Online technical support
Project Solution Capability: Others
Application: Bathroom
Design Style: Modern
Place of Origin: Guangdong, China
Surface Finishing: Stainless Steel
Surface Treatment: Brushed
Exposed Shower Faucet Feature: Without Slide Bar
Number of Handles: Single Handle
Style: Contemporary
Valve Core Material: Ceramic
Material: Stainless Steel
Bathroom sprayer temperature control mixer shower panel OEM steel stainless steel style steel surface ceramic core.
Supply Ability
100000 Piece/Pieces per Month
Packaging & Delivery
Packaging Details: The outer packing size (length, width and height) is91*40.5*79 cm, with a net weight of 0.62 kg and a gross weight of 17kg
Port: Nansha Port
| | |
| --- | --- |
| Place of Origin | Guangdong, China (Mainland) |
| Brand Name | SC |
| Model Number | YM LD02 |
| Installation Type | Exposed Shower Faucets |
| Number of Handles | Dual Handle |
| Style | Contemporary |
| Valve Core Material | Ceramic |
| Number of Holes for Installation | Double Orifice |
| Spray Type | There are |
| Warranty | 1 years |
| Product Keywords | Bathtub tap, third gear shower head, shower head |
| Material | 304 Stainless Steel |
| Surface Treatment | Wire Drawing |
| Number of Pieces | 10 pcs |
When you want to replace your old bathroom shower faucet sets with the new faucet set then there are many options available. Most people are not sure what to choose from and therefore they spend more time searching for a faucet that suits their needs but is also the most affordable. In the recent times many manufacturers have come out with some amazing designs for their bathroom shower faucet sets. You should take your time and search well to get the right faucet for your bathroom. You can also take the advice of your plumber while buying your faucet set.
One of the latest designs in the bathroom shower faucet set is the waterfall shower faucet rain shower system. The waterfall feature offers several water jets that help to massage your body while showering. This is a great feature to find when you want to experience the spa feel. Another great feature that you should check is the cold water faucet as you will need this while you are showering.
Another design available in the bathroom shower faucet set is the in-wall mount faucet. This is a simple design that is mounted on the wall and will allow you to replace your old faucet with the new one. The in-wall mount design is widely used by many people and has many advantages over the other designs available. You will be able to save a lot of space when you use this faucet as it is easily adjustable, easy to install and it can accommodate any type of plumbing.
One last option that you might be interested in is the handheld shower faucet. These are also very popular options and have many advantages over the other models available. The advantage to having a handheld shower faucet set is that you will be able to take it with you when you go out on a date or when you are just in need of a quick fix during a hectic morning. It is also easier to handle than some of the other designs as well.
Some other design features that you may be interested in include the chrome tub shower faucet, the freestanding chrome tub shower faucet, the double showers, the deluxe mixer shower and the satin nickel tub shower faucet. All of these designs offer different options and different benefits so that you can get the best one for your needs. Some of them are more suited to some locations and climates. For example, the chrome tub shower faucet can be used in places where there is a high risk of flooding. The mixer shower offers the convenience of a shower and the control over the water flow for those that are not able to keep their water fully heated.
A waterfall tub tap is the perfect choice for any bathroom as well. These types of bathroom shower faucet sets are made of durable materials and they are very well built so they will last you for years to come. You will be able to find a great combination of faucets that will match the rest of the bathroom and will be able to give you everything that you want. You do not have to sacrifice the look and feel of the room in order to get the shower head that you want.
CONTACT US


Foshan Shunde Songchang Kitchen & Sanitation co., Ltd.
We are always providing our customers with reliable products and considerate services.
If you would like to keep touch with us directly, please go to contact us