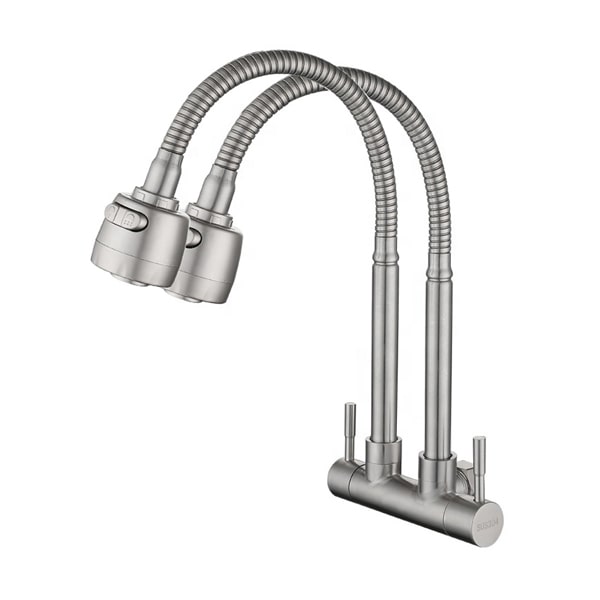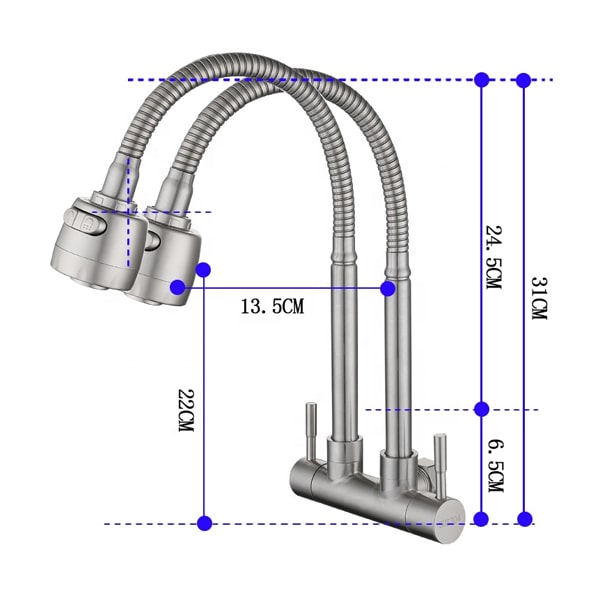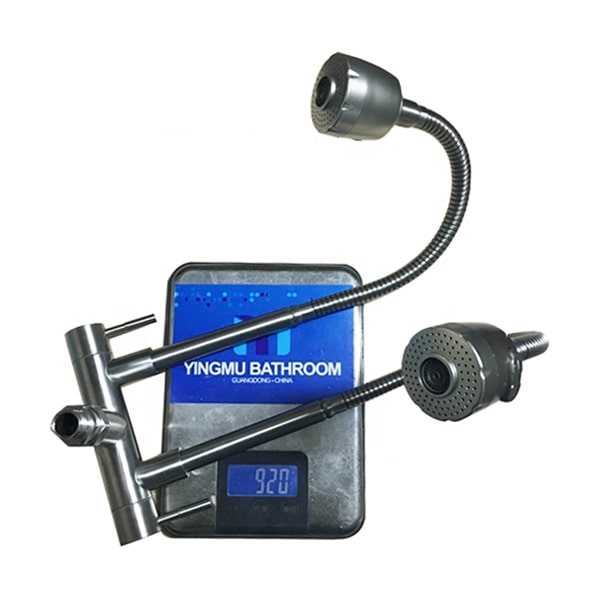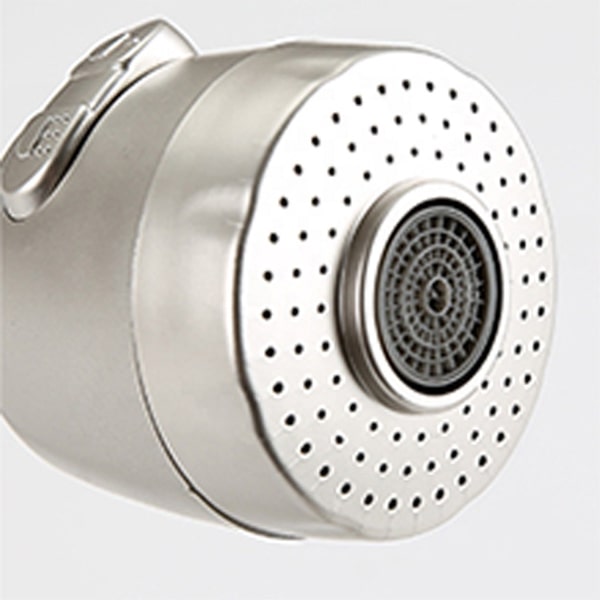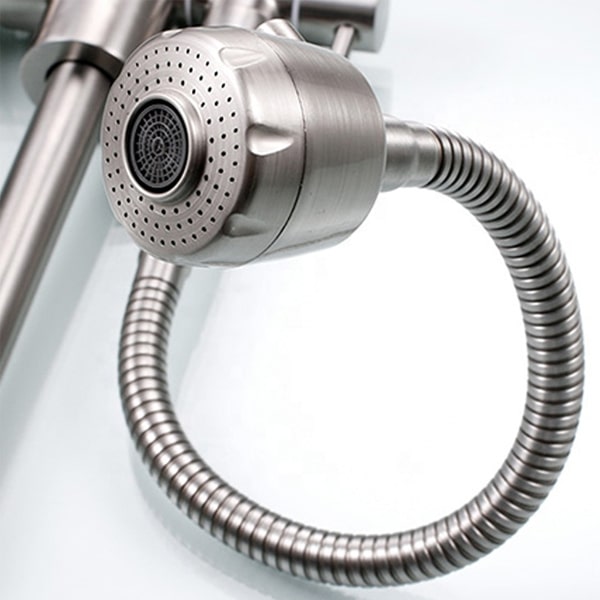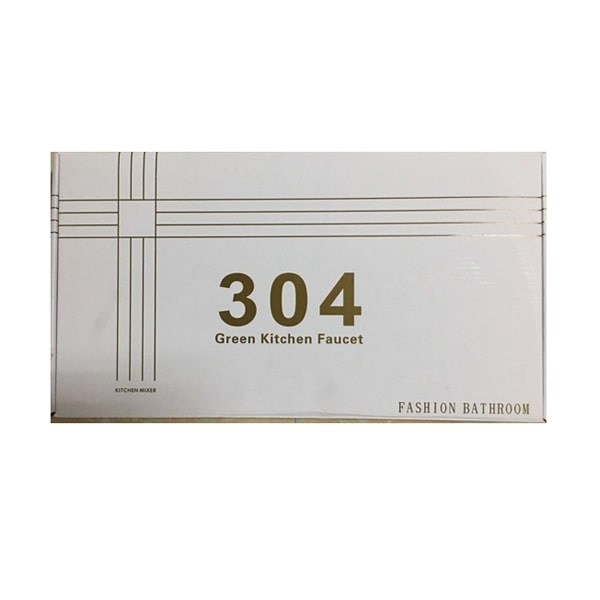 Kitchen Faucet YM-CD007
Brand Name: SC
Model Number: YM-CD007
Warranty: 1 Year
After-sale Service: Online technical support
Project Solution Capability: Others
Application: Kitchen
Design Style: Modern
Place of Origin: Guangdong, China
Surface Treatment: Brushed
Installation Type: Wall Mounted
Number of Handles: Dual Handle
Style: Contemporary
Valve Core Material: Brass
Number of Holes for Installation: Single Hole
Spray Type: Side
Single faucet installed on the wall, single-water stainless steel two-tube outlet, dual-purpose outlet.
Supply Ability
100000 Piece/Pieces per Month
Packaging & Delivery
Packaging Details: Outer box size: (length, width and height) is 57*44.5*49cm, with a net weight of 0.92kg and a gross weight of 40kg
Port: Nansha Port
| | |
| --- | --- |
| Place of Origin | Guangdong, China (Mainland) |
| Brand Name | SC |
| Model Number | YM-CD007 |
| Installation Type | DECK MOUNTED |
| Number of Handles | Single Handle |
| Style | Contemporary |
| Valve Core Material | Ceramic |
| Number of Holes for Installation | Single hole |
| Spray Type | None |
| Warranty | 1 years |
| Product Keywords | Faucet wholesale, Quality faucet, American faucet |
| Material | 304 Stainless Steel |
| Surface Treatment | Brushed |
| Number of Pieces | 20 pcs |
Songchang kitchen faucet with sprayer has a double handle design with an oversized silver hose pullout that easily removes stubborn baked on mess and also cleans delicate silverware and cookware in difficult to reach spots. The sprayer head is covered with anodized aluminum for corrosion protection. The spray nozzle is dishwasher safe and will not cause any drips or leaks. The sprayer head also has an assortment of water pressures and water flow speeds to choose from. The spray unit also includes a spray tip and a non-skid hook to assist in reaching difficult to get to places, like the countertop where you might be working with pots and pans. This kitchen faucet is a high quality item and is one of the most popular accessories on the market today.
If you have recently had a leaky faucet, you will be delighted at how easy it is to clean up with this innovative sprayer. The spray nozzle can be removed from the faucet, simply remove the cartridge, rinse under the running water to prevent any build up of mineral deposits and then fill with water, strain and shake out the dirt or food debris. After the water has run through the spray unit, simply replacing kitchen faucet again. The simplicity of the set up and maintenance is great for those who are on a tight budget and still want to keep their kitchen spiffed up and looking fresh.
There are some specific considerations when replacing your kitchen faucet with a sprayer, mainly if you have a bar or island set in the center of the kitchen. If the faucet is mounted too high, the spray unit may actually block the bar or island. In this case, another option would be to mount the faucet on an adjustable bracket that is lower than the kitchen faucet stop or on ceramic disc cartridges which allow for a lower height to the water flow.
When searching for the best kitchen faucets, you must also make sure to take into account the appearance of your kitchen. Having a kitchen that looks good from the tap can make the whole kitchen much more inviting and appealing. Although there are many styles and designs available, the look you choose must always be with practicality in mind. For example, having a kitchen sink that looks stylish but does not match the other appliances will just end up looking incongruous and out of place.
There are also two types of sprayers to choose from, the cartridge spray head and the pull-down spray head. The cartridge spray head works very well with high-flow kitchen faucets but can get clogged with grease or dirt easily. Pull-down spray heads allow the user to adjust the amount of water flow and spray from the faucet as well as adjust the spray angle for a better flow. The newest technology in sprayers is the touch-on spray head. This type of sprayer requires no special plumbing or electrical skills to install and is designed to be installed by non-professional plumbers.
CONTACT US


Foshan Shunde Songchang Kitchen & Sanitation co., Ltd.
We are always providing our customers with reliable products and considerate services.
If you would like to keep touch with us directly, please go to contact us