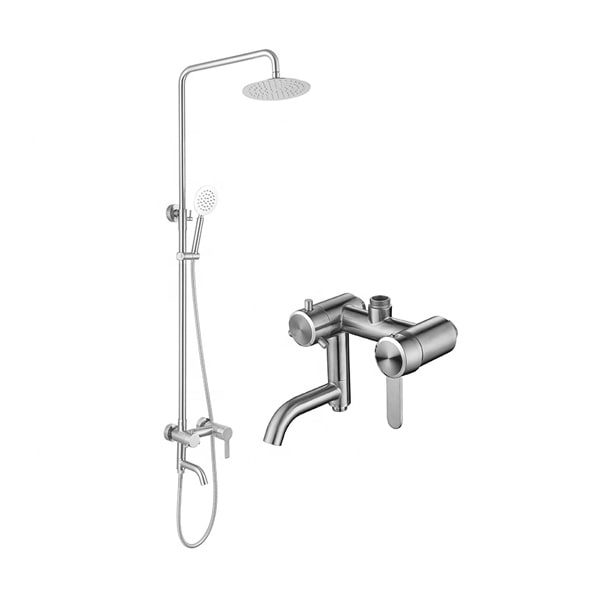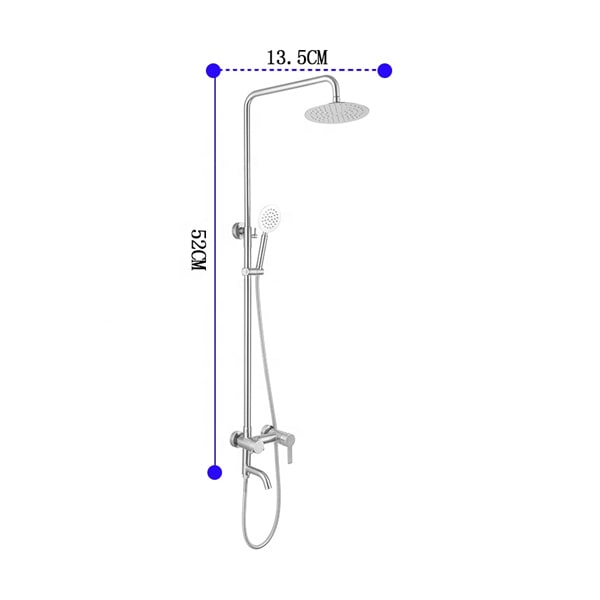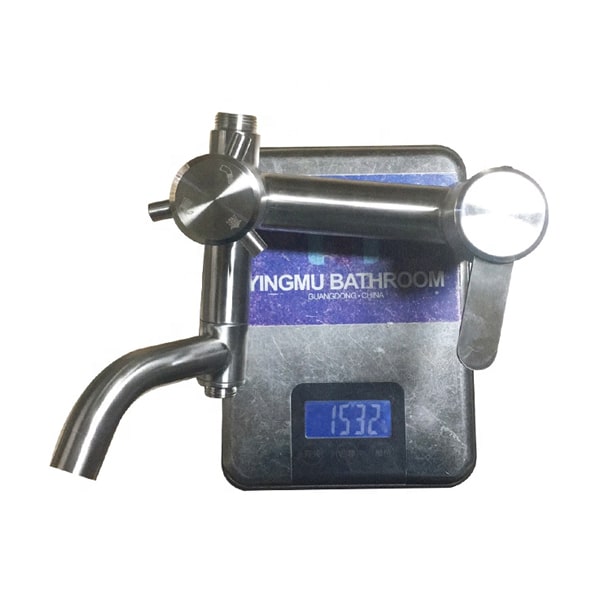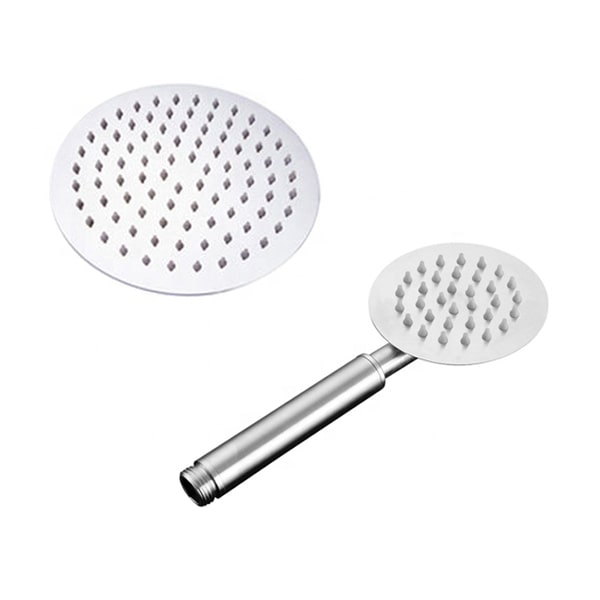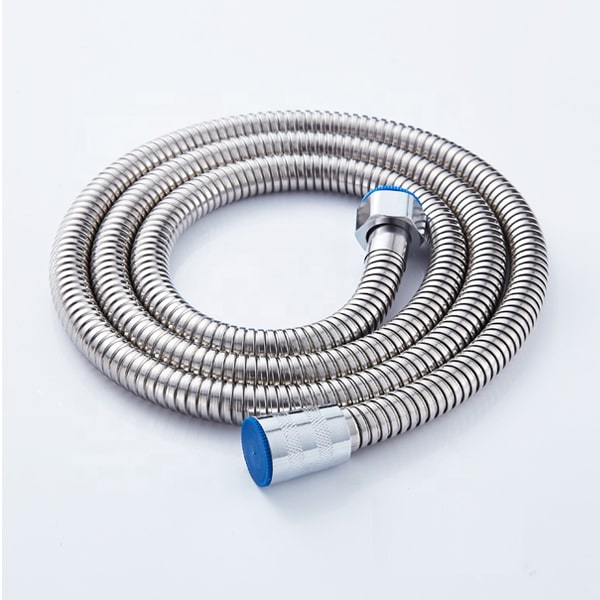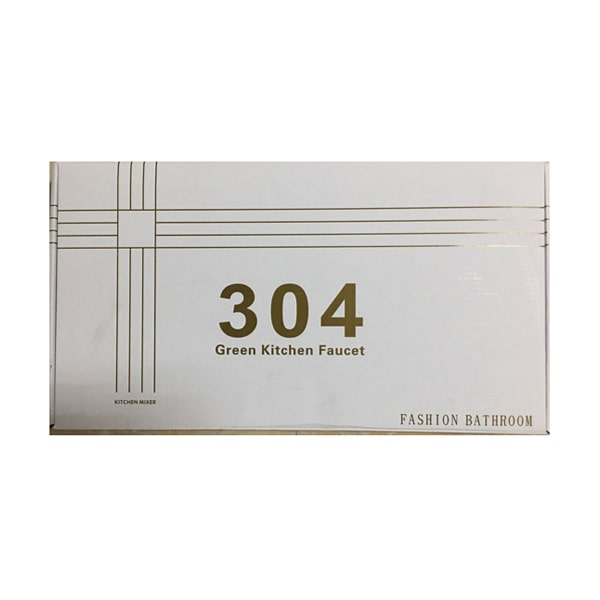 Shower Panel YM-LY11
Brand Name: SC
Model Number: YM-LY11
Warranty: 1 Year
After-sale Service: Online technical support
Project Solution Capability: Others
Application: Bathroom
Design Style: Modern
Place of Origin: Guangdong, China
Surface Finishing: Nickle
Surface Treatment: Brushed
Exposed Shower Faucet Feature: Without Slide Bar
Number of Handles: Dual Handle
Style: Contemporary
Valve Core Material: Ceramic
Material: Stainless Steel
2020 new stainless steel mixed shower faucet set stylish OEM surface brushed treatment.
Supply Ability
100000 Piece/Pieces per Month
Packaging & Delivery
Packaging Details: The outer packing size (length, width and height) is 91*40.5*79 cm, with a net weight of 2.9kg and a gross weight of 23 kg.
Port: Nansha Port
| | |
| --- | --- |
| Place of Origin | Guangdong;China (Mainland) |
| Brand Name | SC |
| Model Number | YM LY11 |
| Installation Type | Exposed Shower Faucets |
| Number of Handles | Dual Handle |
| Style | Contemporary |
| Valve Core Material | Ceramic |
| Number of Holes for Installation | Double orifice |
| Spray Type | There are |
| Warranty | 1 years |
| Product Keywords | Bathtub tap, third gear shower head, shower head |
Multi-functional shower panel systems are an excellent way to give your shower a new life and save money. A multi-functional shower panel system will help to make your shower more time invigorating, saving you money. Look for these key features in your shower panel as a first step to improving its functionality. Self-Watering Enclosures
Self-Watering Enclosures
The best shower panel systems will provide an automatic tray that self-watering. These systems will come with a standard four-quart self-watering glass water tray and adjustable temperature controller to let your bathroom stay hydrated no matter what the time of day. The self-watering tray should also have multiple outlets, so you can easily change out the water source.
Ease of Installation
The easiest way to upgrade your shower panel is to install it yourself. If this is your first time installing a panel, it is best to choose a kit with simple instructions. Some manufacturers offer templates and installation guides that make the process a lot easier. It's best to call the manufacturer of your kit and ask for help with the installation process, particularly if you don't know what you're doing.
Sliding Door Systems
Sliding doors make a great addition to any modern bathroom. A sliding door makes your bathroom much more visually attractive. For an upgrade, consider purchasing sliding shower panel systems for your bathroom. These panels slide on tracks that allow them to be installed right over your existing shower pan. Once installed, the panel folds back into itself, taking up very little space but leaving plenty of room for your showering area.
Shower Hose Inline
Hoses are one of the easiest types of shower panel to install, and they are also a great option for those who want to install a system without replacing or repairing their existing shower pan. You'll have much more flexibility in terms of design and hose lengths when using an inline hose system. Make sure you measure your shower pan before choosing an inline hose, as some panels can be rather small when compared to the openings in standard shower pan designs.
Rainfall Shower
Jets One of the most popular types of rainfall shower panel today is the rain shower jet. These jet units are available in both aluminum and stainless steel finishes, and they run on a constant pressure motor. Because the rain shower jets are operated by motor, they tend to create a more even flow than the in-line hoses. This reduces the risk of spray damage to walls, ceiling, and fixtures in the shower enclosure. They're a great option for anyone looking for a lightweight, compact setup that still offers high-quality performance.
CONTACT US


Foshan Shunde Songchang Kitchen & Sanitation co., Ltd.
We are always providing our customers with reliable products and considerate services.
If you would like to keep touch with us directly, please go to contact us